Researchers Solve Major Challenge in Mass Production of Low-Cost Solar Cells
An international team of university researchers today reports solving a major fabrication challenge for perovskite cells — the intriguing potential challengers to silicon-based solar cells.
These crystalline structures show great promise because they can absorb almost all wavelengths of light. Perovskite solar cells are already commercialized on a small scale, but recent vast improvements in their power conversion efficiency (PCE) are driving interest in using them as low-cost alternatives for solar panels.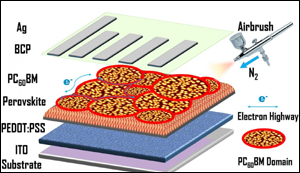 In the cover article published online today for the June 28, 2018 issue of Nanoscale, a publication of the Royal Society of Chemistry, the research team reveals a new scalable means of applying a critical component to perovskite cells to solve some major fabrication challenges. The researchers were able to apply the critical electron transport layer (ETL) in perovskite photovoltaic cells in a new way — spray coating — to imbue the ETL with superior conductivity and a strong interface with its neighbor, the perovskite layer.
Read more at NYU Tandon School of Engineering
Image Credit: NYU Tandon School of Engineering
-jk-