Researchers discover highly conductive materials for more efficient electronics
Engineers from the University of Utah and the University of Minnesota have discovered that interfacing two particular oxide-based materials makes them highly conductive, a boon for future electronics that could result in much more power-efficient laptops, electric cars and home appliances that also don't need cumbersome power supplies.
The research team revealed that when two oxide compounds -- strontium titanate (STO) and neodymium titanate (NTO) -- interact with each other, the bonds between the atoms are arranged in a way that produces many free electrons, the particles that can carry electrical current. STO and NTO are by themselves known as insulators -- materials like glass -- that are not conductive at all. But when they interface, the amount of electrons produced is a hundred times larger than what is possible in semiconductors.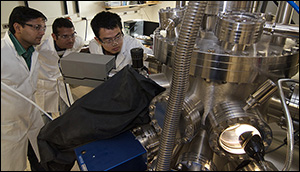 "When I look at the future, I see that we can perhaps improve conductivity by an order of magnitude through optimizing the materials growth," says professor Bharat Jalan, one of the researchers. "Additionally complex oxides can also be optically transparent, magnetic and superconductors. By creating artificial structures with complex oxides, we are bringing the possibility of high power, low energy oxide electronics closer to reality."
Read more at University of Minnesota
Image Credit: University of Minnesota
-jk-