Researchers develop novel wound healing technology
A Washington State University research team has successfully used a mild electric current to take on and beat drug-resistant bacteria Pseudomonas aeruginosa PAO1, a technology that may eventually be used to treat chronic wound infections.
These bacteria are responsible for chronic and serious infections in people with lung diseases, such as cystic fibrosis, and in chronic wounds. They also often cause pneumonia for people who are on ventilators and infections in burn victims.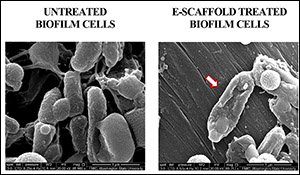 In the new study, the researchers used an "e-scaffold," a sort of electronic band-aid made out of conductive carbon fabric, along with an antibiotic to specifically tackle these persister cells.
The e-scaffold creates an electrical current that produces a low and constant concentration of hydrogen peroxide, an effective disinfectant, at the e-scaffold surface. The hydrogen peroxide disrupts the biofilm matrix and damages the bacteria cell walls and DNA, which allows better antibiotic penetration and efficacy against the bacteria.
Read more at Washington State University
Image Credit: Washington State University
-jk-