Researchers develop cheaper, faster test for E. coli in drinking water
Researchers at the University of Waterloo have invented a fast, affordable way for developing communities to test their drinking water for potentially deadly E. coli.
Unlike current tests that cost about $70 and can take up to three days to get back from the lab, the Waterloo invention uses paper strips similar to those in litmus tests to produce results in less than three hours at a cost of 50 cents.
"This has the potential to allow routine, affordable water testing to help billions of people in the developing world avoid getting sick," said Sushanta Mitra, executive director of the Waterloo Institute for Nanotechnology. "It is a breakthrough."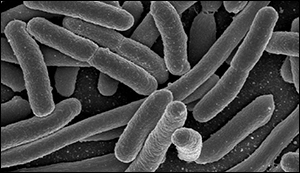 The bottom of the paper strip developed by Mitra and his colleagues is laced with sugar, which begins to dissolve when placed in water. E. coli bacteria are attracted by the resulting sugar trail and get trapped in the porous paper when they come in contact with it. As water enters the paper, it carries the trapped bacteria into an area of the strip containing a mixture of chemicals. The E. coli react with those chemicals and turn the strip pinkish red to signify a positive test.
Read more at Phys.org
Image Credit: Rocky Mountain Laboratories, NIAID, NIH
-jk-