Researchers develop 3D printed objects that can track and store how they are used
Cheap and easily customizable, 3D printed devices are perfect for assistive technology, like prosthetics or "smart" pill bottles that can help patients remember to take their daily medications. But these plastic parts don't have electronics, which means they can't monitor how patients are using them.
Now engineers at the University of Washington have developed 3D printed devices that can track and store their own use — without using batteries or electronics. Instead, this system uses a method called backscatter, through which a device can share information by reflecting signals that have been transmitted to it with an antenna.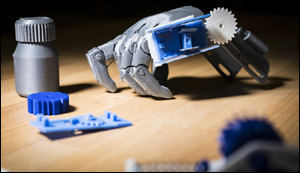 "We're interested in making accessible assistive technology with 3D printing, but we have no easy way to know how people are using it," said co-author Jennifer Mankoff, a professor in the UW's Paul G. Allen School of Computer Science & Engineering. "Could we come up with a circuitless solution that could be printed on consumer-grade, off-the-shelf printers and allow the device itself to collect information? That's what we showed was possible in this paper."
Read more at University of Washington
Image Credit: Mark Stone/University of Washington
-jk-