Researchers Control Surface Tension to Manipulate Liquid Metals
Researchers from North Carolina State University have developed a technique for controlling the surface tension of liquid metals by applying very low voltages, opening the door to a new generation of reconfigurable electronic circuits, antennas and other technologies.
The technique hinges on the fact that the oxide "skin" of the metal - which can be deposited or removed - acts as a surfactant, lowering the surface tension between the metal and the surrounding fluid. The researchers used a liquid metal alloy of gallium and indium. In base, the bare alloy has a remarkably high surface tension of about 500 millinewtons (mN)/meter, which causes the metal to bead up into a spherical blob.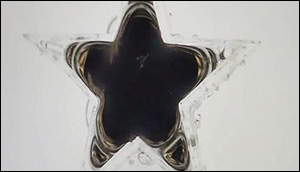 "But we discovered that applying a small, positive charge - less than 1 volt - causes an electrochemical reaction that creates an oxide layer on the surface of the metal, dramatically lowering the surface tension from 500 mN/meter to around 2 mN/meter," says Dr. Michael Dickey, an associate professor of chemical and biomolecular engineering at NC State and senior author of a paper describing the work. "This change allows the liquid metal to spread out like a pancake, due to gravity."
The researchers also showed that the change in surface tension is reversible. If researchers flip the polarity of the charge from positive to negative, the oxide is eliminated and high surface tension is restored. The surface tension can be tuned between these two extremes by varying the voltage in small steps.
Read more at NCSU
Image Credit: NCSU
-jk-