Realistic Robo-Hawks Designed to Fly Around and Terrorize Real Birds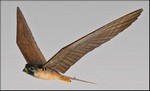 Birds are nice enough, unless you work at places like airports, farms, and landfills, in which case they're the sworn enemy. Today, there are a variety of toolsand technologies for spooking unwanted birds—we've graduated from scarecrows to flash-bang grenades and other sophisticated armaments—but Nico Nijenhuis is undoubtedly working on the coolest. He's building robot hawks that trick lingering critters into thinking they're about to get snacked on.
Nijenhuis, a 27-year-old based in the Netherlands, is the mind behind Robirds, a line of robotic birds of prey. He's hoping to sell them to the aviation and waste management industries under the name Clear Flight Solutions. Nijenhuis is currently testing remote controlled Peregrine Falcons and eagles with promising results. By the end of the year, he's hoping to have fully autonomous robot birds on offer ... read original article.