Printable structures fold themselves
As 3-D printing has become a mainstream technology, industry and academic researchers have been investigating printable structures that will fold themselves into useful three-dimensional shapes when heated or immersed in water.
In a paper appearing in the American Chemical Society's journal Applied Materials and Interfaces, researchers from MIT's Computer Science and Artificial Intelligence Laboratory (CSAIL) report something new: a printable structure that begins to fold itself up as soon as it's peeled off the printing platform.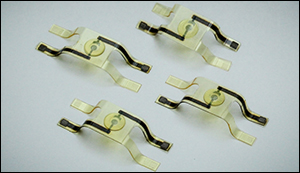 The technique could enable the custom manufacture of sensors, displays, or antennas whose functionality depends on their three-dimensional shape. Longer term, the researchers envision the possibility of printable robots.
Read more at MIT
Image Credit: MIT
-jk-