Powering Ingestible Electronics With the Fluids in Your Gut
Ingestible electronics that travel through the gut within pill-like capsules can now capture video, release drugs, and record temperature, pH, and other vital signs. However, most current ingestible electronics rely on conventional batteries, many of which require toxic materials.
Now researchers have developed ingestible electronics that harvest energy from chemical reactions with fluids in the gut. Their research enabled continuous temperature sensing and wireless communication for an average of 6.1 days in the guts of live pigs.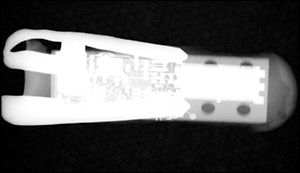 The energy-harvesting galvanic cell the scientists developed relies on stomach or intestinal fluids to serve as the electrolyte bridging its zinc anode with its copper cathode. As the zinc dissolved, the device generated an average power of 0.23 microwatts per square millimeter of anode.
The current prototype devices are cylinders about 40 millimeters long and 12 millimeters in diameter. However, the researchers suggest that by building customized integrated circuits to better stack the components of the device, they could make the capsule three to five times smaller in volume.
Read more at IEEE Spectrum
Image Credit: Jenny Haupt, Cody Cleveland and Phillip Nadeau
-jk-