Power Harvesting Sensor Patch Uses Your Body As a Battery
Thermoelectric Generators (TEGs) enable energy conversion from heat to electricity and have potential applications ranging from waste heat energy harvesting to small self-powered wearable medical devices.
Unfortunately, most flexible TEGs have lower performance due to the lower heat or electrical conductivity in the flexible semiconductors used. A team of engineers at NC State University has developed a flexible TEG design that combines the significant research and development investments in rigid semiconductor materials with advancements in flexible polymer chemistry.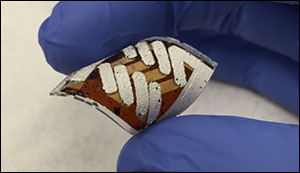 By combining these elements the inventors have been able to design a TEG prototype which is significantly more flexible than alternative chemistries; successfully combining the benefits of both flexible and traditional TEG designs.
Advantages:
Flexible substrate combined with rigid semiconductor core enable high performance flexibility
Commercial off-the-shelf parts utilize industry standard materials with NC State's unique device designs
High thermal and electrical conductivity through unique device geometry
Read more at NC State University
Image Credit: NC State University
-jk-