Plastic Roads Sound Like a Crazy Idea, Maybe Aren't
A Dutch construction company called VolkerWessels is partnering with the city of Rotterdam to create a prototype for a prefabricated plastic road. If it works, it would be durable, fast to construct, and way better for the environment than asphalt.
VolkerWessels' PlasticRoad concept is ambitious, to say the least. They envision pulling waste plastic out of the oceans, and then processing it into prefabricated sections of road with integrated utility channels and drainage. The composition and structure of the plastic makes it more durable than traditional asphalt, and VolkerWessels estimates that their plastic roads should last about three times as long as traditional roads.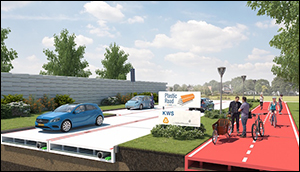 Each plastic section can be created in a factory somewhere, and then hauled to where you want your new PlasticRoad to go. The road sections fit together like tiles (making construction very quick), and they're light enough that you can use them on poor soil without having to put down an expensive foundation first. The hollow inside can be used for water retention, and also to provide a path for utility pipes and cabling.
The things that aren't addressed by the available information are safety and cost. Will the plastic road be just as safe as an asphalt one in wet conditions? In terms of cost, the plastic road almost certainly would be more expensive, but if it lasts three times longer than conventional roads, makes utility access easier, can be fabricated off-site, and takes less time to install, it seems possible that deploying these plastic roads might actually be cheaper in the long run. You might still have to swallow a much larger up-front cost, but if you're willing to plan for the future a little bit, it could (maybe) be worth it.
Read more at IEEE Spectrum
Image Credit: VolkerWessels
-jk-