Oxford to build spectrograph for world's largest optical telescope
University of Oxford researchers will lead the design and build of the HARMONI spectrograph for the European Extremely Large Telescope (E-ELT). The HARMONI project will provide the world's largest visible and infrared telescope with unprecedented physical insights about objects in the distant Universe.
Perched on top of Cerro Armazones in the Atacama Desert of northern Chile, the E-ELT will have a giant main mirror 39 metres in diameter. The telescope will enable scientists to peer further into the history of the Universe, studying distant, young galaxies in great detail with better sensitivity than ever before — helping improve our understanding of the Universe, the effects of dark matter and energy, and planets outside of our solar system.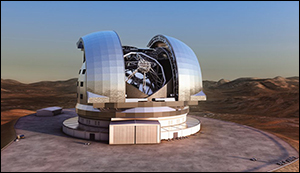 When it is first used in 2024, the E-ELT will be equipped with three scientific instruments. One of these will be HARMONI, a spectrograph which splits the light from the object in the sky into its component wavelengths or colours. Astronomers can use these 'spectra' to determine far more than images alone ever can: they reveal the motion, temperature and chemical composition of structures imaged using the telescope.
Read more at University of Oxford
Image Credit: University of Oxford
-jk-