Origami-inspired materials could soften the blow for reusable spacecraft
Space vehicles like SpaceX's Falcon 9 are designed to be reusable. But this means that, like Olympic gymnasts hoping for a gold medal, they have to stick their landings. Landing is stressful on a rocket's legs because they must handle the force from the impact with the landing pad. One way to combat this is to build legs out of materials that absorb some of the force and soften the blow.
University of Washington researchers have developed a novel solution to help reduce impact forces — for potential applications in spacecraft, cars and beyond. Inspired by the paper folding art of origami, the team created a paper model of a metamaterial that uses "folding creases" to soften impact forces and instead promote forces that relax stresses in the chain. The team published its results in Science Advances.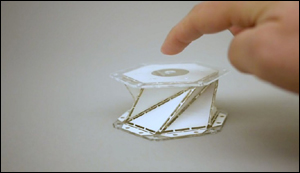 "Origami is great for realizing the unit cell," said co-author Yasuhiro Miyazawa, a UW aeronautics and astronautics doctoral student. "By changing where we introduce creases into flat materials, we can design materials that exhibit different degrees of stiffness when they fold and unfold. Here we've created a unit cell that softens the force it feels when someone pushes on it, and it accentuates the tension that follows as the cell returns to its normal shape."
Read more at University of Washington
Image Credit: Kiyomi Taguchi / University of Washington
-jk-