Novel bioprinter shows potential to speed tissue engineering
The dream of tissue engineering is a computer-controlled manufacturing of complex and functional human tissue for potential organ regeneration or replacement.
University of Alabama at Birmingham biomedical researchers have found a way to speed that tissue creation using a novel bioprinter built for $2,000, they report in the journal Micromachines. Building blocks for the tissue are pre-grown spheroids of human induced-pluripotent stem cells that contain 200,000 cells per spheroid.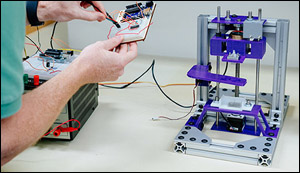 The key? The UAB proof-of-concept bioprinter picks up multiple spheroids at the same time and places them simultaneously on a matrix of pins. The UAB prototype used a 4-by-4 matrix of 16 pins, so 16 spheroids could be placed at once, with a cycle speed of 45 seconds. A video, which does not include the reservoir of spheroids, shows how one cycle works.
Read more at University of Alabama at Birmingham
Image Credit: University of Alabama at Birmingham
-jk-