Non-toxic alternative for next-generation solar cells
The team of researchers, from the University of Cambridge and the United States, have used theoretical and experimental methods to show how bismuth – the so-called "green element" which sits next to lead on the periodic table, could be used in low-cost solar cells.
Their results, reported in the journal Advanced Materials, suggest that solar cells incorporating bismuth can replicate the properties that enable the exceptional properties of lead-based solar cells, but without the same toxicity concerns. Later calculations by another research group showed that bismuth-based cells can convert light into energy at efficiencies up to 22%, which is comparable to the most advanced solar cells currently on the market.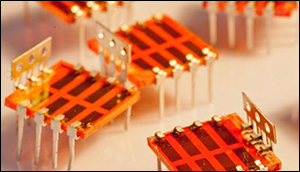 "We wanted to find out why defects don't appear to affect the performance of lead-halide perovskite solar cells as much as they would in other materials," said Dr Robert Hoye of Cambridge's Cavendish Laboratory and Department of Materials Science & Metallurgy, and the paper's lead author. "If we can figure out what's special about them, then perhaps we can replicate their properties using non-toxic materials."
Read more at University of Cambridge
Image Credit: University of Cambridge
-jk-