Next-gen flexible robots move and heal like us
In the basement of the Engineering Center at CU Boulder, a group of researchers is working to create the next generation of robots. But instead of the metallic droids you may be imagining, these robots are made from soft materials that react to applied voltage with a wide range of motions.
A central challenge in the field known as "soft robotics" is a lack of actuators or "artificial muscles" that can replicate the versatility and performance of the real thing. The Keplinger Research Group in the College of Engineering and Applied Science has developed a new class of soft, electrically activated devices capable of mimicking the expansion and contraction of natural muscles.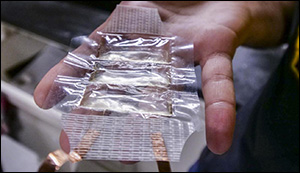 The newly developed hydraulically amplified self-healing electrostatic (HASEL) actuators eschew the bulky, rigid pistons and motors of conventional robots for soft structures that exceed or match the strength, speed and efficiency of biological muscle. Their versatility may enable artificial muscles for human-like robots and a next generation of prosthetic limbs.
Read more at University of Colorado Boulder
Image Credit: Glenn Asakawa/University of Colorado Boulder
-jk-