New World Speed Record for an Electric Vehicle
The Venturi VBB-3 established two new FIA world speed records for an electric vehicle : 341.4 miles per hour (549.43kph). The car also set a top speed record : 358 mph (576 kph).
The performance took place on the Bonneville salt flats (Utah, USA) under the Federation Internationale de l'Automobile (FIA) regulation. Timing has been done on 1 mile ran in both directions at one hour intervals. Built in the first half of 2013, this 3rd generation of Venturi VBB could have run in September 2013. Severe weather that hit Utah 3 years in a row led to the cancellation of record attempts.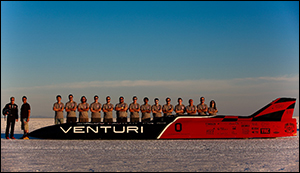 With Roger Schroer behind the wheel, this is the 5th time in their history that Venturi reached with this level of performance. In 2009 the Monaco powertrain manufacturer clinched the FIA world speed record for a fuel cell car (303mph/487kph). In 2010 the Venturi VBB-2.5 realized the FIA world speed record for an electric vehicle (307mph/495kph), and in 2014 and 2015 two new category records.
Read more at Venturi Automobiles
Image Credit: Venturi Automobiles
-jk-