New world record for direct solar water-splitting efficiency
Photovoltaics are a mainstay of renewable-energy supply systems, and sunlight is abundantly available worldwide – but not around the clock. One solution for dealing with this fluctuating power generation is to store sunlight in the form of chemical energy, specifically by using sunlight to produce hydrogen.
This is because hydrogen can be stored easily and safely, and used in many ways – whether in a fuel cell to directly generate electricity and heat, or as feedstock for manufacturing combustible fuels. If you combine solar cells with catalysts and additional functional layers to form a "monolithic photoelectrode" as a single block, then splitting water becomes especially simple.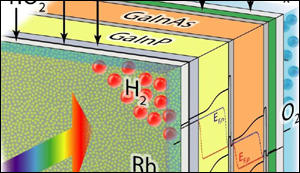 An international team of researchers has now succeeded in raising the efficiency of producing hydrogen from direct solar water-splitting to a record 19 percent. They did so by combining a tandem solar cell of III-V semiconductors with a catalyst of rhodium nanoparticles and a crystalline titanium dioxide coating.
Read more at Phys.org
Image Credit: ACS Energy Letters
-jk-