New Technology for Fast-Charging, Noncombustible Batteries
A team of engineers led by 94-year-old John Goodenough, professor in the Cockrell School of Engineering at The University of Texas at Austin and co-inventor of the lithium-ion battery, has developed the first all-solid-state battery cells that could lead to safer, faster-charging, longer-lasting rechargeable batteries for handheld mobile devices, electric cars and stationary energy storage. 
Goodenough's latest breakthrough, completed with Cockrell School senior research fellow Maria Helena Braga, is a low-cost all-solid-state battery that is noncombustible and has a long cycle life (battery life) with a high volumetric energy density and fast rates of charge and discharge.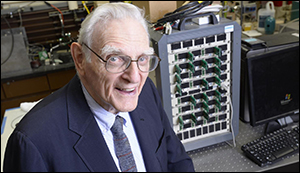 The researchers demonstrated that their new battery cells have at least three times as much energy density as today's lithium-ion batteries. A battery cell's energy density gives an electric vehicle its driving range, so a higher energy density means that a car can drive more miles between charges. The UT Austin battery formulation also allows for a greater number of charging and discharging cycles, which equates to longer-lasting batteries, as well as a faster rate of recharge (minutes rather than hours).
Read more at The University of Texas at Austin
Image Credit: The University of Texas at Austin
-jk-