New Technique Produces Longer-lasting Lithium Batteries
A Columbia Engineering team led by Yuan Yang, assistant professor of materials science and engineering, announced today that they have developed a new method for safely prolonging battery life by inserting a nano-coating of boron nitride (BN) to stabilize solid electrolytes in lithium metal batteries. Their findings are outlined in a new study published by Joule.
While conventional lithium ion (Li-ion) batteries are currently widely used in daily life, they have low energy density, resulting in shorter battery life, and, because of the highly flammable liquid electrolyte inside them, they can short out and even catch fire. Energy density could be improved by using lithium metal to replace the graphite anode used in Li-ion batteries: lithium metal's theoretical capacity for the amount of charge it can deliver is almost 10 times higher than that of graphite. But during lithium plating, dendrites often form and, if they penetrate the membrane separator in the middle of the battery, they can create short-circuits, raising concerns about battery safety.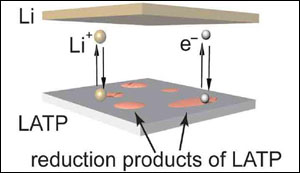 "We decided to focus on solid, ceramic electrolytes. They show great promise in improving both safety and energy density, as compared with conventional, flammable electrolytes in Li-ion batteries," says Yang. "We are particularly interested in rechargeable solid-state lithium batteries because they are promising candidates for next-generation energy storage."
Read more at Columbia Engineering
Image Credit: Columbia Engineering
-jk-