New soft rubber for creating self-healing robots
A team of researchers at Vrije Universiteit Brussel has developed a type of rubber that can be used with robots to allow them to self-heal when cut. In their paper published in the journal Science Robotics, the team describes the rubber, how it self-heals and how it performed when tested.
One of the big goals for robot engineers has been developing a skin for robots that will heal when damaged, similar to self-healing human skin. A parallel goal is integrating soft robotic parts into applications where sensitivity is required—lifting a patient at a hospital, for example. The downside to soft materials is, of course, that they can be easily damaged, putting a robot out of commission. Ideally, robot hands and certain other parts would be both soft and self-healing, and that is what the researchers with this new effort report achieving.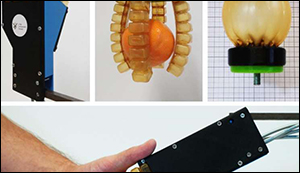 The solution, the researchers believed, was a type of rubber that is soft enough to provide sensitivity, yet strong enough to maintain its shape without the need of inside support (such as bones in humans). Such a rubber would also need to be repairable without the use of glues, screws, etc., because the scar would not be as strong as the original material. The team developed just such a rubber and then used it to create the fingers for a robot.
Read more at TechXplore
Image Credit: Terryn
-jk-