New smart material works better under pressure
Advanced robotics sensitive touch or next-generation wearable devices with sophisticated sensing capabilities could soon be possible following the development of a rubber that combines flexibility with high electrical conductivity.
The new smart composite material, developed by researchers at the University of Wollongong's (UOW) Faculty of Engineering and Information Sciences, shows properties that have not previously been observed: it increases in electrical conductivity as it is deformed, especially when elongated.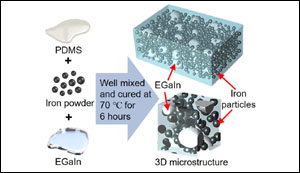 Using liquid metal and metallic microparticles as a conductive filler, researchers discovered a composite that increases its conductivity the more strain placed on it – a discovery that not only opens up new possibilities in applications, it also came about in an unexpected way.


Read more at University of Wollongong
Image Credit: University of Wollongong
-jk-