New Material Holds Promise for More Secure Computing
As computers advance, encryption methods currently used to keep everything from financial transactions to military secrets secure might soon be useless, technology experts warn. Team of physicists and engineers report they have created a material with light-emitting properties that might enable hack-proof communications, guaranteed by the laws of quantum mechanics.
Their new material, created by stacking two layers of atomically thin materials, absorbs energy from light and emits new photons, or particles of light, in such a way that the researchers interpret the material to contain thousands of identical "single-photon emitters." If confirmed, such a novel light source could be used as part of a new, hack-proof method of securing information.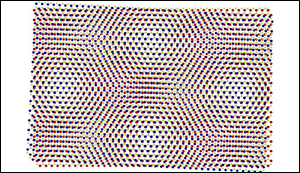 The method for creating such ultrathin atomic sheets is remarkably simple. Scientists use scotch tape to peel off individual layers from a crystal. By stacking two different layers on top of each other and slightly rotating them relative to each other, the scientists created an artificial crystal with a regularly spaced pattern of atoms. Such a pattern is known as a moiré crystal, which localizes electrons into a tight space on the order of a nanometer, about a thousand times smaller than a bacterium.
Read more at University of Texas at Austin
Image Credit: University of Texas at Austin
-jk-