New material could improve efficiency of computer processing and memory
A team of researchers led by the University of Minnesota has developed a new material that could potentially improve the efficiency of computer processing and memory. The findings are published in Nature Materials.
"We used a quantum material that has attracted a lot of attention by the semiconductor industry in the past few years, but created it in unique way that resulted in a material with new physical and spin-electronic properties that could greatly improve computing and memory efficiency," said lead researcher Jian-Ping Wang, a University of Minnesota Distinguished McKnight Professor and Robert F. Hartmann Chair in electrical engineering.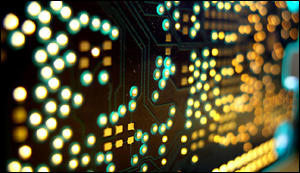 The new material is in a class of materials called "topological insulators," which have been studied recently by physics and materials research communities and the semiconductor industry because of their unique spin-electronic transport and magnetic properties. Topological insulators are usually created using a single crystal growth process.
Read more at University of Minnesota
Image Credit: University of Minnesota
-jk-