New lens ready for its close-up
Researchers have always thought that flat, ultrathin optical lenses for cameras or other devices were impossible because of the way all the colors of light must bend through them. Consequently, photographers have had to put up with more cumbersome and heavier curved lenses.
But University of Utah electrical and computer engineering professor Rajesh Menon and his team have developed a new method of creating optics that are flat and thin yet can still perform the function of bending light to a single point, the basic step in producing an image.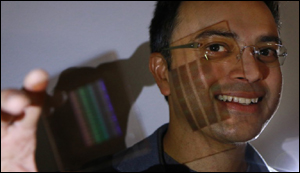 Researchers discovered a way to design a flat lens that can be 10 times thinner than the width of a human hair or millions of times thinner than a camera lens today. They do it through a principle known as diffraction in which light interacts with microstructures in the lens and bends. They use specially created algorithms to calculate the geometry of a lens so different colors can pass through it and focus to a single point. The resulting lens, called a "super-achromatic lens," can be made of any transparent material such as glass or plastic.
Read more at University of Utah
Image Credit: University of Utah
-jk-