New flexible piezoelectric composite for 3-D printing
Researchers at Peking University, Southern University of Science and Technology and the University of Jinan in China have recently designed a ceramic-polymer composite that can be used to print complex 3-D grid architectures. This composite, first presented in a paper published in Nano Energy, was found to exhibit a number of desirable properties, including high flexibility and a high electromechanical energy conversion rate.
Piezoelectric ceramic materials, such as Pb(Zr,Ti)O3 (PZT) typically have remarkable electromechanical energy conversion capabilities. However, most of these materials are inherently rigid, which makes them far from ideal for the fabrication of flexible electronics.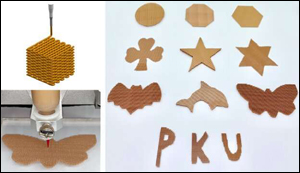 The material created by Dong and his colleagues is comprised of a polydimethylsiloxane (PDMS) elastomeric matrix doped with silver-coated PNN-PZT ceramic particles. Its design and composition differ substantially from those of other piezoelectric ceramic materials designed in the past. The new piezoelectric ceramic material is also far easier to produce, as more conventional piezoelectric ceramic materials typically require time-consuming, high-temperature sintering fabrication methods or expensive laser 3-D printing processes involving a technique called stereolithography. Its unique design and fabrication process ultimately make it far more flexible than similar materials developed in the past, giving it elastic properties.
Read more at Tech Xplore
Image Credit: Peking University
-jk-