New Electric Car Charger is More Efficient, 10 Times Smaller Than Current Tech
3. 10. 2018 | North Carolina State University | www.ncsu.edu
Researchers at North Carolina State University have built an electric vehicle fast charger that is at least 10 times smaller than existing systems and wastes 60 percent less power during the charging process, without sacrificing the charging time. The new technology is called a medium voltage fast charger (MVFC).
Conventional, 50 kilowatt (kW) state-of-the-art chargers include a distribution transformer, which weighs 1000 kilograms, and a separate fast charger unit, which weighs 200 to 600 kg. To support the weight, this transformer-and-charger system usually needs to be installed on a concrete slab.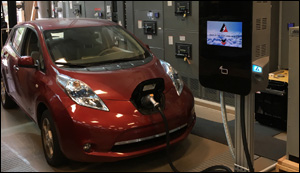 "Our 50-kW MVFC weighs only around 100 kilograms and can be wall- or pole-mounted," says Srdjan Lukic, an associate professor of electrical engineering at NC State and one of the researchers who developed the technology. "The MVFC does the work of both the transformer and the fast charger, taking power directly from a medium-voltage utility line and converting it for use in an electric vehicle battery.
Read more at North Carolina State University
Image Credit: North Carolina State University
-jk-