New drug-delivery technology
23.10.2019 | Washington State University | wsu.edu
A precise and non-toxic treatment that targets lung cancer cells at the nanoscale is able to effectively kill the cells even at a low dose.
Researchers from Washington State University and the Department of Energy's Pacific Northwest National Laboratory (PNNL) used tiny tubes made from organic molecules called peptoids to deliver cancer-killing drugs in a targeted manner. The biologically-inspired nanotubes, which are about a hundred thousand times thinner than a human hair, were rolled up from membrane-like nanosheets. The drug molecules, fluorescent dyes and cancer-targeting molecules were precisely placed within the nanotubes, enabling them to track the efficiency of drug delivery into the cancer cells.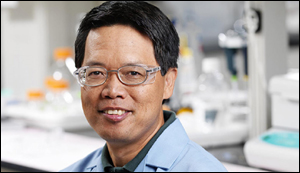 The researchers designed and created peptoid nanotubes for targeted tumor cell imaging and therapy. Using a combination of chemotherapy and photodynamic therapies, the nanotubes were highly efficient in killing cancer cells.
Read more at Washington State University
Image Credit: PNNL
-jk