New 3D Printers Can Print Materials as Strong as Steel
A few years ago 3D printing was supposed to be the next big thing, but progress has been slower than those in the industry had hoped. The cost of 3D printers has come down, but they're not much more capable than they were when they cost thousands of dollars. Part of the problem is that printing with flimsy plastic limits what you can make, but a company called Markforged thinks it has a solution — carbon fiber-infused nylon that can be as strong as steel.
Printing with metal requires high temperatures and processes that require multiple pieces of equipment. Plastic printers are easier to use, but the items you get from such a device aren't strong enough for long-term use. The Markforged X3 and X5 printers split the difference with a single-step process that produces parts and tools with a custom plastic-carbon fiber composite. The X5 printer is capable of making parts that are 20 times stronger and 10 times stiffer than standard ABS plastic.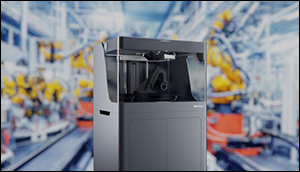 The company claims that its X5-printed material can replace machined aluminum in industrial applications. The key is Markforged thermoplastic fiber filament, which incorporates a "strand of continuous fiberglass" into the carbon fiber for added strength. Neither of these new printers are priced for consumers. The X3 retails for $36,990 and the X5 is $49,900.
Read more at ExtremeTech
Image Credit: ExtremeTech
-jk-