New 3-D printer is 10 times faster than commercial counterparts
MIT engineers have developed a new desktop 3-D printer that performs up to 10 times faster than existing commercial counterparts. Whereas the most common printers may fabricate a few Lego-sized bricks in one hour, the new design can print similarly sized objects in just a few minutes.
The key to the team's nimble design lies in the printer's compact printhead, which incorporates two new, speed-enhancing components: a screw mechanism that feeds polymer material through a nozzle at high force; and a laser, built into the printhead, that rapidly heats and melts the material, enabling it to flow faster through the nozzle.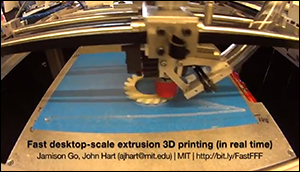 The team demonstrated its new design by printing various detailed, handheld 3-D objects, including small eyeglasses frames, a bevel gear, and a miniature replica of the MIT dome — each, from start to finish, within several minutes.
Read more at MIT
Image Credit: MIT
-jk-