NASA Completes Webb Telescope Center of Curvature Pre-test
Engineers and technicians working on the James Webb Space Telescope successfully completed the first important optical measurement of Webb's fully assembled primary mirror, called a Center of Curvature test.
Taking a before optical measurement of the telescope's deployed mirror is crucial before the telescope goes into several stages of rigorous mechanical testing. These tests will simulate the violent sound and vibration environments the telescope will experience inside its rocket on its way out into space.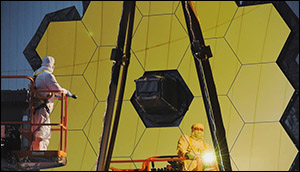 In order to conduct the test, optical engineers set up an interferometer, the main device used to measure the shape of Webb's mirror. Waves of visible light are less than a thousandth of a millimeter long, and optics like Webb's need to be shaped and aligned even more accurately than this to work correctly. Scientists use wavelengths of light to make tiny measurements.
By measuring light reflected off the optics using an interferometer, they are able to measure extremely small changes in shape or position.  An interferometer gets its name from the process of recording and measuring the ripple patterns that result when different beams of light mix and their waves combine or interfere.
Read more at NASA
Image Credit: NASA
-jk-