Modular portable laptop has sliding keyboard and learning paths
A new portable, modular laptop has come on the scene, a laptop powered by the Raspberry Pi. One notable feature is its sliding keyboard. The laptop's display is a 14-inch 1080p screen.
The company is pi-top and the CEO is Jesse Lozano. He said, "We're offering learning beyond the screen and keyboard, enabling wider exploration of computer science and basic electronics." The QWERTY keyboard is actually a sliding keyboard that provides access to an in-built modular rail for enabling "custom-built invention" projects.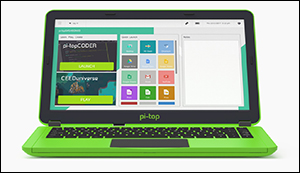 Battery life is 8+ hours. In creating the platform, the pi-top team said they "incorporated feedback from over 1,000 teachers, students and schools." The news release also said the platform integrates elements of STEAM learning. The system is priced at $319 but without a Raspberry Pi it is $284.99.
Read more at Tech Xplore
Image Credit: pi-top
-jk-