Mercedes-Benz will electrify its entire car lineup by 2022
Mercedes-Benz is the latest automaker to embrace electrification, announcing that it will be electrifying its entire vehicle lineup by 2022. Get used to it: Car makers are going to be making these announcements at an increasing clip, especially now that China, the most important car market in the world right now, has announced plans to eventually move to ban the sale of fossil fuel vehicles entirely.
Here's the deal: Mercedes-Benz chief Dieter Zetsche said that the car maker will offer either hybrid or fully electric versions of its vehicles by 2022, adding up to a total of a minimum of 50 new electric model options by that time.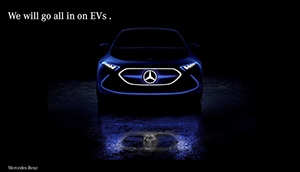 This puts Mercedes-Benz in good company with other higher-end car manufacturers, including Volvo, which have committed to offering a fully electrified lineup by 2019, and Ford's Lincoln luxury sub-brand has also set 2022 as the deadline for offering electric variants of each of its vehicle models.
Read more at TechCrunch
Image Credit: Mercedes-Benz
-jk-