Mercedes-Benz is going head-to-head against Tesla with a home battery
Tesla might seem uniquely qualified to offer giant packs of batteries that you mount on the wall of your home, but it's certainly not the only automaker in the world making electric cars.
That's where Daimler comes in - the German conglomerate is planning to offer Mercedes-Benz-branded battery packs starting this September in its home country through subsidiary Accumotive, and it's taking registrations now.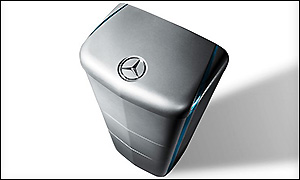 Like Tesla, Mercedes' battery packs are filled with cells originally designed with cars in mind, and they're designed to even the load so solar energy can be stored overnight and homes can draw from the grid during off-peak hours. Similarly, Tesla's Powerwalls can be combined into "Powerpacks" that scale all the way up to 10 MWh or more.
Tesla says it has seen extraordinary demand for the Powerwalls, so it's conceivable that Mercedes' entrance to the market will help spread out demand — and a little competition never hurt. No word on pricing yet, but Tesla's systems start at $3,500.
Read more at The Verge
Image Credit: Daimler
-jk-