Meet Chevrolet Bolt, the First Electric Car for the Masses
General Motors just beat Tesla Motors in the race to produce a truly affordable electric vehicle with triple-digit range.
GM CEO Mary Barra unveiled the all-electric Chevrolet Bolt at CES, providing the first look at what may be the most significant vehicle the automaker has built in decades. The little EV may look like just another five-door compact, but two figures make it an engineering masterstroke: 200 and 30,000.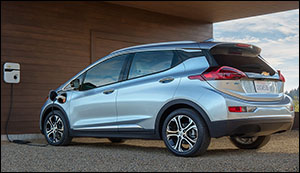 That first number is its range: 200 miles on a fully charged battery. That's a number exceeded only by Tesla, whose cheapest model starts north of $70,000. And that brings us to the second number. Chevy promises the Bolt will cost less than $30,000 after the $7,500 federal tax credit. Together, they make the Bolt the first EV that delivers excellent range at a great price. It is the electric car for the masses.
Leading, in this case, means winning a race among automakers to produce the first 200-mile, $30K EV. It's the widely acknowledged point where range anxiety ceases to be a major problem for those interested in driving electric, for a cost less than that of the average new car sold in the US. GM's most prominent competitor here is Elon Musk, who plans to unveil Tesla's long-awaited affordable Model 3 in the spring and start production in 2017. VW and Nissan are also working on the problem, though neither has announced specific model plans.
Read more at Wired
Image Credit: Wired
-jk-