Mass production of new class of semiconductors closer to reality
Two Waterloo chemists have made it easier for manufacturers to produce a new class of faster and cheaper semiconductors.
The chemists have found a way to simultaneously control the orientation and select the size of single-walled carbon nanotubes deposited on a surface. That means the developers of semiconductors can use carbon as opposed to silicon, which will reduce the size and increase the speed of the devices while improving their battery life.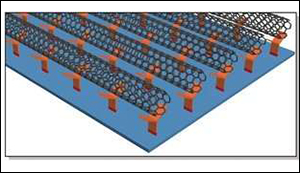 "We're reaching the limits of what's physically possible with silicon-based devices," said co-author Derek Schipper, Canada Research Chair Organic Material Synthesis at the University of Waterloo. "Not only would single-walled carbon nanotube-based electronics be more powerful, they would also consume less power."
The study, co-authored by Serxho Selmani, a doctoral candidate in the Department of Chemistry at Waterloo, appears this week in the journal Angewandte Chemie International Edition.
Read more at Phys.org
Image Credit: Angewandte Chemie International Edition
-jk-