Making lithium-ion batteries safer, stronger
Today's rechargeable lithium-ion batteries are good, but they could be much better in the future. That's what University of Illinois at Chicago and Argonne National Laboratory researchers have concluded, following extensive studies using real-time transmission electron microscopy, or TEM.
The technique, they report in Nature Communications, is the most effective way to understand the electrochemical reactions of lithium-ion batteries and to learn how the batteries can be modified to become safer, stronger, longer lasting and cheaper.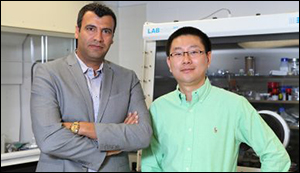 Lithium-ion batteries are commonly used in home and portable electronics, and in some motor vehicles. "Despite widespread use, rechargeable ion batteries face various materials and interfacial challenges that exclude them from high power and high-performance applications," says Reza Shahbazian-Yassar, associate professor of mechanical and industrial engineering.
Read more at University of Illinois at Chicago
Image Credit: University of Illinois at Chicago
-jk-