Magnetic fields provide a new way to communicate wirelessly
A new technique could pave the way for ultra low power and high-security wireless communication systems.
Electrical engineers at the University of California, San Diego demonstrated a new wireless communication technique that works by sending magnetic signals through the human body. The new technology could offer a lower power and more secure way to communicate information between wearable electronic devices, providing an improved alternative to existing wireless communication systems, researchers said.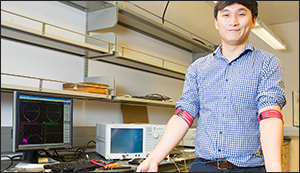 While this work is still a proof-of-concept demonstration, researchers envision developing it into an ultra low power wireless system that can easily transmit information around the human body. An application of this technology would be a wireless sensor network for full-body health monitoring.
Electrical engineers demonstrated a technique called magnetic field human body communication, which uses the body as a vehicle to deliver magnetic energy between electronic devices. An advantage of this system is that magnetic fields are able to pass freely through biological tissues, so signals are communicated with much lower path losses and potentially, much lower power consumption.
Read more at UC San Diego
Image Credit: UC San Diego
-jk-