Lumotive spreads word on its lidar system for autonomous vehicles
A Seattle-based company is talking up a storm about solid state lidar powered by liquid crystal metasurface (LCM) technology. The company CTO is proclaiming the LCM chip as "the holy grail of LiDAR."
"Lumotive's beam-steering technology is the culmination of years of fundamental research into controlling electromagnetic waves using artificially structured metasurfaces," said David Smith, the James B. Duke Distinguished Professor of Electrical and Computer Engineering at Duke University. He called Lumotive the first to develop dynamically tunable metamaterials for optics.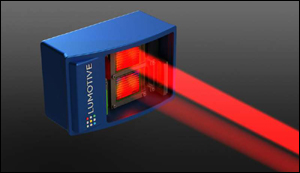 The company is talking about its system which has a large optical aperture (25 x 25 mm); a120-degree field-of-view with high angular resolution; and fast random-access beam steering. Their large aperture is like having a bigger telescope. It allows them to see dramatically farther than other systems.
Read more at Tech Xplore
Image Credit: Lumotive
-jk-