Low-cost infrared touch screen by Continental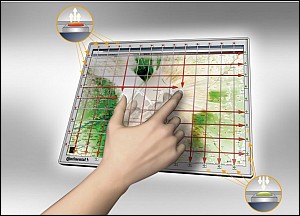 Touchscreen is the best innovation till date in this decade in terms of display and interaction with the system. They have been used across industries. The automotive industry has integrated this in its dashboards,but mostly it is high-end class we see such technology. This is because of the high cost of the integration. This scenario may change with the rather cheap Continental "infrared curtain" which allows mutli-touch functionality only any automobile.
The infrared is made out of the combination of LEDs and photodiodes. The curtain is a square frame where in the LEDs are placed on two adjacent sides and likewise the photodiodes in the other two sides of the frame. The LED emits the photo beam which is picked up by the photodiode and the corresponding location on the opposite side of the frame is selected. This square frame is similar to the outside edges of the LCD screen with a capacitive touchscreen.
Image credit: Continental
Further reading at Gizmorati.com