Looking for the next leap in rechargeable batteries
20. 2. 2017 | University of Southern California | news.usc.edu
USC researchers may have just found a solution for one of the biggest stumbling blocks to the next wave of rechargeable batteries.
The lithium-sulfur battery, long thought to be better at energy storage capacity than its more popular lithium-ion counterpart, was hampered by its short cycle life. Currently the lithium-sulfur battery can be recharged 50 to 100 times — impractical as an alternative energy source compared to 1,000 times for many rechargeable batteries on the market today.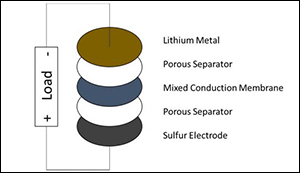 The solution devised by researchers from USC is something they call the "Mixed Conduction Membrane," or MCM, a small piece of non-porous, fabricated material sandwiched between two layers of porous separators, soaked in electrolytes and placed between the two electrodes.
The membrane works as a barrier in reducing the shuttling of dissolved polysulfides between anode and cathode, a process that increases the kind of cycle strain that has made the use of lithium-sulfur batteries for energy storage a challenge. This novel membrane solution preserves the high-discharge rate capability and energy density without losing capacity over time.
Read more at University of Southern California
Image Credit: Sri Narayan
-jk-