Light provides control for 3D printing with multiple materials
3D printing has revolutionized the fields of healthcare, biomedical engineering, manufacturing and art design. Successful applications have come despite the fact that most 3D printing techniques can only produce parts made of one material at a time. More complex applications could be developed if 3D printers could use different materials and create multi-material parts.
New research uses different wavelengths of light to achieve this complexity. Scientists at the University of Wisconsin–Madison developed a novel 3D printer that uses patterns of visible and ultraviolet light to dictate which of two monomers are polymerized to form a solid material. Different patterns of light provide the spatial control necessary to yield multi-material parts. The work was published Feb. 15 in the journal Nature Communications.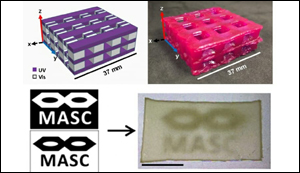 The researchers' novel approach to multi-material 3D printing could enable designers, artists, engineers and scientists to create significantly more complex systems with 3D printing. Applications could include the creation of personalized medical devices, such as prostheses, or the development of simulated organs and tissues. Medical students could use these synthetic organs for training instead of, or before working with, live patients.
Read more at University of Wisconsin–Madison
Image Credit: A. J. Boydston and Johanna Schwartz
-jk-