Light emitting glasses herald new era for insomnia treatmen
While numerous wearables tout fitness benefits, few devices have demonstrated any empirical evidence of improving wellness.  Last week researchers at the University of Buffalo revealed their progress on a pair of LED eye glasses that will use light therapy to treat insomnia.
The argument that insomnia treatment could be the kind of use case that brings health wearables into the public eye (pun intended) makes good sense. Nearly 48% of Americans suffer from insomnia making it one of the most widespread health problems in the developed world.  While a variety of smartwatches and phones tout sleep tracking features, these have done little more than offer an accurate measurement of just how acute the problem has become. Enter light therapy.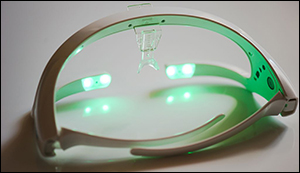 While the practice of using selective lighting to reset one's biological clock, and thus combat insomnia, has been in use for several decades, the success of these treatments have been held back by technological hurdles. In previous years, light therapy involved breaking from one's activities to spend long periods in front of a device that would emit light on a wavelength meant to mimic that of bright sunlight. The researchers at the University of Buffalo have adapted the light source to be mounted on a pair of lightweight glasses not dissimilar from the now ubiquitous Google glass. These light emitting glasses contain their own power source and allow the user to freely go about their daily activities, driving the car or cutting vegetables, all the while receiving light therapy.
Read more at ExtremeTech
Image Credit: University at Buffalo
-jk-