LG And Mercedes-Benz Team Up To Develop A System To Power Self-Driving Cars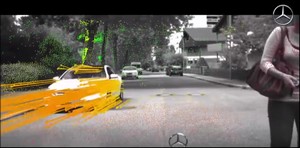 LG is partnering up with Mercedes-Benz to make the future of driving smarter and less about the drivers themselves.
The Korean company announced that the duo are jointly working on "next-generation camera systems" which they said will allow computers and algorithms to handle "some aspects" of the driving experience. LG told The Verge that it will provide the "core components" of self-driving cars from Mercedes-Benz in the future.
That joint system will be based on LG's existing 'ADAS' (Advanced Drive Assistance System) products — which include cameras that produce alerts when a vehicle changes lane, read road signs, check the driver's health status and issue proximity-based warnings for obstacles — by licensing Mercedes-Benz's fascinating 6D Vision technology to advance LG's tech.
Read more at TechCrunch