Lexus Hoverboard: How It Works and Why You Won't See It in Stores Anytime Soon
A few days ago, a short Lexus video went viral on YouTube, as the luxury carmaker apparently created a real hoverboard called Slide. Thanks to the Back to the Future movies, skateboarding fans have been waiting for years for such a product to be created, and it's no coincidence that Lexus released the Slide promo video this year.
But is it actually a real, functioning device? While some believe the Slide is actually a hoax like similar recent promotions, Wired has gone ahead and explained the technology behind such a product, suggesting that it is possible to make hoverboards. It all has to do with magnets, electromagnetic fields, electricity and liquid nitrogen (which explains the smoke in the video). In some ways, the Slide hoverboard is similar to existing high-speed maglev trains from Japan, which also use magnets to seemingly levitate and reach those impressive speeds.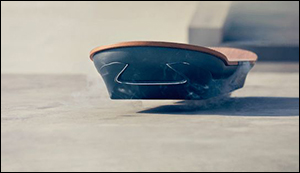 With that in mind, you probably see what the problem with the Slide is. You need some kind of magnets beneath the asphalt in order for the hoverboard to, well, hover above it and beat gravity. The point of the Slide was to generate attention for Lexus's cars, and the company didn't expect the video to see such a huge response. Therefore, Lexus clarified that it isn't looking to build a widely available hoverboard just yet, but a full, working version of the Slide may be shown in a lengthier ad-campaign. And who knows? In the future, a commercial version of the Slide might become a reality after all.
Read more at BGR
Image Credit: Lexus
-jk-