'Lego-electronics' offer simple way to assemble integrated circuits
One of the biggest challenges in the drive to miniaturize electronic devices is the difficulty in aligning and assembling the increasingly tiny electronic components with the necessary precision, which is challenging even for robots.
In a new study, researchers have developed a method for converting integrated circuits into "Lego-electronics," whose simple lock-and-key design could ease the manufacturing process, enhance the production rate, and reduce the failure rate of the micro-scale interconnects.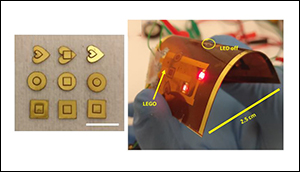 To demonstrate the simplicity of assembling the Lego-electronics, the researchers have shown that the Lego-modules can not only be assembled by robots, but also by a blindfolded person, suggesting that the technology could open up work opportunities in the electronics industry for individuals who are visually impaired.
Read more at Tech Xplore
Image Credit: Lisa Zyga
-jk-