Latin America's largest solar park turns Mexican desert green
This silent stretch of Chihuahuan desert in northern Mexico in the state of Coahuila is the spot the Italian energy giant Enel picked to build the Villanueva power plant: 2.3 million solar panels that sprawl across a sun-soaked area the size of 2,200 football fields.
When the plant reaches full capacity later this year, it will supply enough electricity to power 1.3 million homes. It is the biggest solar project in the world outside China and India. The panels are designed to turn in tandem with the sun, like a field of metallic sunflowers. They are part of Mexico's push to generate 35 percent of its electricity from clean sources by 2024.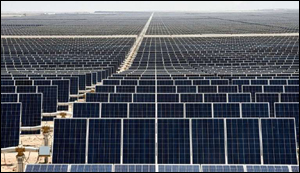 Besides the $650-million Villanueva project, Enel has another solar park and is building two wind farms. Last May it pledged an additional $97 million in investment to expand its projects in Mexico. Thanks to the goverment program, Mexico is now on the top 10 list of countries with the most clean energy investment, according to the government—which predicts the price plunge will continue at the next auction, slated for November.
Read more at Phys.org
Image Credit: Enel
-jk-