Is your meal really gluten free?
For people with celiac disease or gluten intolerances, dining out can be stressful. Even trace amounts of the protein — found in wheat, barley, and rye — in a whole plate of food can cause adverse reactions.
Nima's sensor, also called Nima, is a 3-inch-tall triangular device with disposable capsules. Diners put a sample of food — about the size of a pea — or liquid into the capsule, screw on the top, and insert the capsule into the device, which mixes the food into a solution that detects gluten. In two to three minutes, a digital display appears on the sensor, indicating if the food sample does or doesn't contain gluten.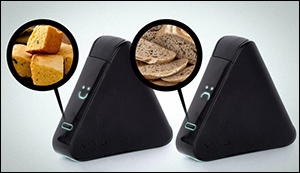 Every time someone runs a test, the result is automatically sent to an app Nima has developed. The diner can enter information about where and what they ate, and whether the food contained gluten. Any Nima user can log in to see the results. Nima can sense gluten at 20 parts per million (ppm). Next year, Nima plans to release two new sensors, one for peanuts and one for dairy.
Read more at MIT News
Image Credit: Nima
-jk-