'Invisible computing' startup unveils smart contact lens
A startup focused on "invisible computing" unveiled a smart contact lens which delivers an augmented reality display in a user's field of vision. The Mojo Vision contact lens offers a display with information and notifications, and allows the user to interact by focusing on certain points.
The rigid contact lens, which the company has been developing in stealth mode for some 10 years, may also be used to help people with visual impairments by using enhanced image overlays. A user, wearing two lenses which may be fitted with a correction prescription, could "click" by concentrating on an icon—to launch a music player, for example—and turn off by looking away.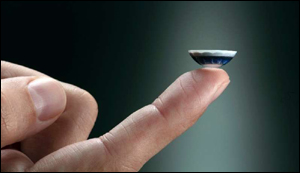 The contact lens aims to enable people to move away from physical devices and interact more naturally with technology. It also could have business applications, allowing workers or specialists access to real-time information in their field of vision without a bulky headset. Executives said the current version would transmit and receive information wirelessly through a portable relay box which could be clipped to a belt, but they hope to link directly to smartphones in the future.
Read more at Tech Xplore
Image Credit: Mojo Vision
-jk-