Inspired by Octopus Skin, Engineers Develop a Programmable "Camouflaging" Material
13. 10. 2017 | Marine Biological Laboratory | www.mbl.edu
For the octopus and cuttlefish, instantaneously changing their skin color and pattern to disappear into the environment is just part of their camouflage prowess. These animals can also swiftly and reversibly morph their skin into a textured, 3D surface, giving the animal a ragged outline that mimics seaweed, coral, or other objects it detects and uses for camouflage.
Engineers at Cornell University report on their invention of stretchable surfaces with programmable 3D texture morphing, a synthetic "camouflaging skin" inspired by studying and modeling the real thing in octopus and cuttlefish.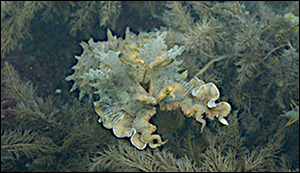 Led by James Pikul and Rob Shepherd, the team's pneumatically activated material takes a cue from the 3D bumps, or papillae, that cephalopods can express in one-fifth of a second for camouflage, and then retract to swim away with minimal hydrodynamic drag.
Read more at Marine Biological Laboratory
Image Credit: Roger Hanlon
-jk-